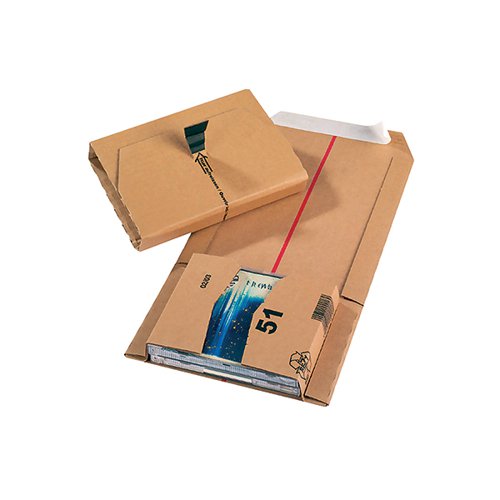 Check Stock - Click Here
Manufacturer Jiffy Packaging
Manufacturer Ref 11066
Parcel box for mailing (145x126mm)
Self-adhesive strip for sealing
Easy tear-open strip for recipient
Large enough for DVD and CD cases
Made from at least 65% recycled content
For items up to 55mm thick
Dimensions: 145 x 126 x 55mm
Colour: Brown
Pack of 20
Show More
Description
Sturdy board construction helps to shield items from bumps and scratches. Close them up easily and securely with the self-adhesive seal and your recipient can open them up just as quickly with the tear-open strip. These boxes are ideal for posting common retail items.
Browse our full range of fabrics from the bands below and use the band selector to choose the correct band range for your item.
If you would like further information or a fabric not shown below, then please contact us using the chat or via phone on 08003213651
Xtreme
Xtreme is a modern crepe weave fabric made from 100% post-consumer recycled polyester, diverting waste from landfill and saving virgin raw materials. Its stretch properties, coupled with inherent flame resistance, durability and non-pilling properties make Xtreme an ever popular fabric for task seating.
Talk to us View all Fabrics
Rivet
Rivet is a fixating fabric which not only connects with the modern collaborative workplace, but also forms a bridge between textile traditions and future innovation. Designed to blend the aesthetic qualities of luxury woollen apparel with modern performance sportswear, Rivet is a lightly textured hopsack which emulates the swathe of suiting in a well-heeled synthetic. Made from 100% REPREVE®, a brand of recycled polyester made from used plastic bottles.
Talk to us View all Fabrics
Era
Era is a subtle, two tone polyester fabric containing stretch in both directions for ease of upholstery. The baby herringbone weave offers an understated contemporary texture while its colouring technique provides close up intrigue. The palette incorporates playful brights and sophisticated muted tones.
Talk to us View all Fabrics
Specifications
Minimum Recycled Content (%)